Rethink Needed for Office365
I started this year determined to go all in for Office 365.  Things I was hoping to leverage:
VSB outlook emails so I would never have to collect student email addresses and students would always be able to re-set their passwords
OneNote notebook sharing so our day-to-day agenda, topics covered, handouts and notes would be instantly available to students
Forms to take care of soliciting student ideas or input
OneDrive for sharing Excel and Word files with me
So far things have not been working out super great.  There have been some successes:
I can reset passwords for students' access to web/email materials because as a teacher I can reset the student VSB authentication
Lots of grade 8's have email addresses who normally wouldn't, and I have an email address (VSB) for every student
Using forms works very well and is a smooth process.  There is some irony in this because the Forms is the only office365 app that we're not fully supposed to use (or just use with appropriate cautions) because the servers for Forms are in the USA.
That's about it for the good stuff. On the downside, this:
kids constantly have to log into things including computers, web pages, apps, etc
Getting OneNote going for students is a huge pain unless the student is super motivated.  On a mobile device: install outlook, install OneNote.  Open Outlook to get the link to the shared notebook. Open OneNote in a browser on your phone, after logging into VSB office365 again.  Once opened, you can ask to edit the notebook on your app.  Notebook now shows in the OneNote app. Whew. Trying getting 190 students to do that, when 175 don't really care.
Students can create content on Excel and Word, but have no way to print this material.  Therefore they need to login into Office365 on the web, save the file in the right spot (not the desktop, not "Sites - Board of Education" with blue logo, not "OneDrive - Personal" with blue logo, but "OneDrive - Board of Education" with blue logo),  then share it with me. Hopefully the students will make the file editable in case I need to change something so it prints properly.  Usually a couple of times a day the Office365 network stalls out, so all printing stops.
Sometimes Office documents don't work.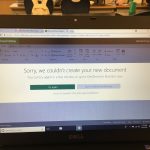 Students don't check their VSB emails even though they have notifications on.
The end result is that despite having all these tools at our disposal, students do not use the VSB email to check for messages, they do not use OneNote to get missed work, and they do not use OneDrive to share files.  It is simply too much work, too many logins, too many different apps to negotiate, and not linked to their own digital identity or profile.
I think there is a chance that the grade 8's can be trained to use these tools effectively but it will take significant buy-in from more than just one or two teachers.  It's a pretty hard sell to get a student to jump through these hoops when instead "Mr. Whatshisname just puts his stuff on his google site, I like it better."
I'm still looking for that holy grail of digital content sharing and communication. At this point I feel that Moodle comes the closest although it comes with significant problems with student logins.  Moodle has the added bonus of providing online practice quizzes, which can be very helpful for students. Wordpress and Google Sites are the easiest for students (no login required) but limited in what they can provide.  Perhaps a Google Site/Blog is the best route though - use a site that provides only the most basic functionality and not worry about it so much.