Inspired by a post by Keith Rispin, I've been thinking about BYOD and the more I think about it, the more frustrated I get.
I can't help think just how far off the mark the MoE is with their BC edplan and BYOD.  Having studied technology in education for a couple of years, where we theorized on mobile devices and endeavoured to design learning environments and activities that could incorporate them, it is clear that the path forward with BYOD is severely limited.  That's fine as long as we recognize the benefits, restrictions and capabilities of a BYOD policy.  However, the BC Edplan does not do this.  BYOD is pitched as a pedagogically validated path forward which will help personalized learning (ie 21C Learning).  If a person was to casually read over this part of the BC Edplan, they would likely get the impression that by providing some form of smartphone, their child will be welcomed into a realm of meaningful digital learning.  Sadly, nothing could be further from the truth. I can understand the financial pressures involved with BYOD, but that doesn't excuse an implementation that doesn't fulfill the needs of public education.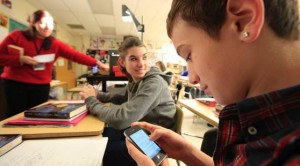 When discussing BYOD, the first thing we should be honest about is what devices kids will bring to school and who will be bringing them.  Without formally studying the issue, I think it's highly likely that the device in BYOD will predominately be a smartphone.  If I were to make estimates according to the school where I teach, I would guess that in wealthier areas: most seniors have a smartphone that is 3 years old to brand new; that most juniors have a cell phone; that maybe 50% of juniors have a smartphone.  Even in the community where I teach, personal tablets are rare.  Laptops are fairly rare too, and when asking students about them, their personal computers are typically a desktop or larger laptop.  I don't see laptops being viable for mobile computing (I personally hate having to lug my tablet PC to school and back everyday) for financial, convenience and security reasons.  For students, they would constantly have to deal with security in terms of theft as well as security in terms of protection against damage.  FWIW, my school has an average yearly family income of over $80,000.  Other schools that I've taught at which have at least 1/2 as much BYOD/smartphone adoption have yearly family incomes averaging in the low $40,000.  Looking at data from the Fraser Institute, I would say that a likely average across BC is around $50,000.  From this, perhaps we can anecdotally say that 1/2 of our senior students in BC public schools will have access to BYOD, where the device most likely will be a one to three year old smartphone.
So exactly what will students be doing with their smartphones?  Probably lots of internet searching and possibly some online textbook reading.  Capturing some data such as video and photos.  Science simulations? Nope? Significant writing or note taking? Probably not. Working with graphics, videos, analysis software? No.  Accessing database information for research? I doubt it.  Creating projects via posters, presentations, web2.0 applications? No.  I happen to use cell phones in my Physics 12 classes for Peer Instruction and Clickers, but not even enough of my Physics 11 students have sms plans to support this use, and that's in the $80,000 average family income neighbourhood.
Let's not kid ourselves. We don't need BYOD devices in schools.  We don't need a catch-all phrase "technology."  What we need are modern, functional personal computers with appropriate interfaces.  I have to add the "appropriate interfaces" because things like smartphones are undoubtedly computers.  They just aren't what we're looking for in schools.